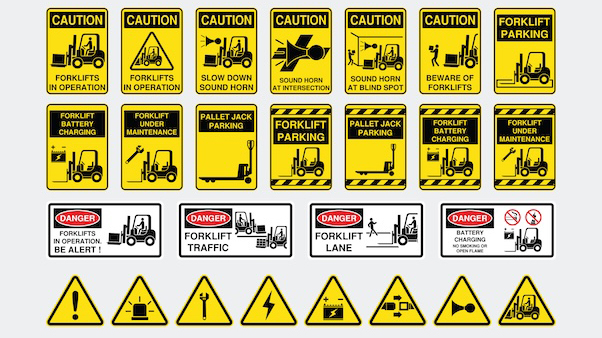 OSHA estimates that 35,000 serious injuries and also 62,000 non-serious injuries involving forklifts occur yearly. Further, the data from the Bureau of Labor Statistics demonstrates 96 U.S. workers were killed in incidents involving forklifts from 2015.
A few basic safety tips from All Purpose Crane Training says that workers without proper training and knowledge of forklift operation, in addition to operators that move forklifts carelessly, have an increased probability of death or injury.
Train for Safety
Proper training is essential for forklift operators. An untrained operator can be as dangerous as an unlicensed driver of a motor vehicle. OSHA mandates that operators must successfully complete training and evaluation to operate powered industrial trucks safely.
Perform Checkups
Operators should perform pre-op inspections on forklifts such as Visual & Mecanical which include backup alarms, tires, lights, horn, brakes, seat belts, fluid levels, and the load-supporting and moving parts of the forklift.
Understand the Machinery and Regulations
While some may consider it common knowledge, comprehending the disparity is pivotal in bolstering the safety of drivers, workers, and bystanders. Despite a few shared features between forklifts and personal vehicles, the dissimilarities are substantial.
Key distinctions encompass:
Unenclosed Configuration: Forklifts lack complete driver enclosures, setting them apart from personal vehicles.
Weight Range: Forklifts weigh between 9,000 and 30,000 pounds, with rough-terrain models tilting toward the higher end of the spectrum.
Limited Speed: Operating at speeds below 20 mph, akin to a pedestrian's pace.
Three-Point Suspension: Forklifts employ a three-point suspension system, differing from personal vehicles.
Inclination and Stability: Forklifts have a propensity to tip or lean, regardless of wealth, due to their fluctuating stability.
Enhanced Maneuverability: Facilitating operation in confined spaces, forklifts boast a tighter turning radius.
The National Safety Council (NSC) advocates steadfast seat belt usage for operators. Neglecting this precaution could lead to grave consequences, as an overturned vehicle might eject an operator, culminating in severe accidents or fatalities within the forklift compartment.
Know the 'Equilibrium Triangle
The center of gravity for an unloaded lift truck typically resides at a higher point compared to that of a regular automobile. When a load is added, it introduces its own center of gravity. The combined center of gravity, considering both the truck and its load, is established once the load is in place.
Lift trucks are constructed with a three-point suspension system, exhibiting a triangular arrangement in terms of physics. The support points are situated at the ends of the front axle and the center of the rear axle. This configuration gives rise to a "stability triangle," which operators must stay within while the truck is in motion.
Several factors can disrupt the equilibrium triangle, leading to a lift truck losing stability. These include:
Carrying unsteady, bulky, wide, or elevated loads.
Rapid acceleration or deceleration.
Negotiating corners at excessive speeds.
Negotiating corners at excessive speeds.
Adhering to these guidelines fosters a safer operating environment, minimizing the risk of tip-over incidents. This heightened awareness safeguards both operators and those within the vicinity.
Prior to commencing operation, ensure the load is securely fastened to the forks.
Keep loads positioned close to the ground during operations.
When ascending or descending inclines, ensure the heavier end of the load is uphill.
Exercise caution in wet or slippery conditions, maintaining reduced speeds.
Gradually decelerate during stops and sound the horn when encountering pedestrians.
Adhering to OSHA forklift training requirements is critical, and our thorough program guarantees that your operators get the required knowledge and abilities to maintain a safe and compliant work environment.
Know Load Basics
Inspect loads before lifting them with the forks, ensuring stability and proper dimensions for safe transport. Lift the load slightly to clear the ground before lifting higher. Avoid overloading, place loads evenly, and lower the forks before backing away.
OSHA guides operators to check heaps before picking up them with all the forks, ensuring that the load's equilibrium and measurements will allow for safe transport. Move before the strain before forcing them below force and then move the pliers so far as you can. Be sure you, not overload and that the strain is centered./
Slightly tilt the forklift mast backward before lifting. Lift the strain enough to clean a floor or stand. OSHA recommends lifting the strain for piling up.
Be certain that the region is safe and flat, and don't place heavy loads on top of types. Lower the forks and then straight back the forklift away. As always, ensure the strain remains stable.
These safety tips are crucial for preventing accidents, injuries, and fatalities when operating forklifts. Following these guidelines can contribute to a safer work environment and protect the well-being of operators, workers, and bystanders.
Elevate your workplace safety standards with our specialized forklift recertification training, a critical step in reinforcing your operators' abilities and keeping your operations running smoothly.