Hablamos Espanol
On-site Training
CALL NOW FOR PRICING
(888) 978-2516
Need A License To Operate A Forklift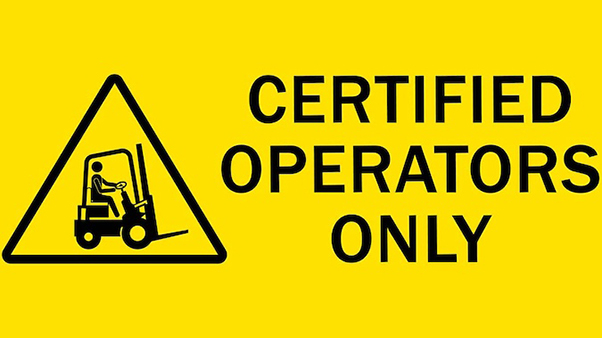 "Do I require a license to operate a forklift?" is a common question posed by operators and enterprise owners alike. The unequivocal response is... YES: one must fulfill all the necessary OSHA requirements. In addition to obtaining a permit, it is imperative to attain proper certification in forklift operation and acquire authorization from the employer. These prerequisites apply to businesses of all scales, be it small or large.
What is Forklift Operator Certification?
Forklift Operator Certification is a credential obtained by operators to demonstrate their level of training, whether it is at the advanced, specialist, refresher, or basic level. This certification indicates the specific type of forklift that the operator is authorized to operate, such as an electric pallet jack, lift truck, and more. It includes details about the rated power, types of attachments, and the motor power involved. It is mandatory for every forklift operator to undergo retraining every three years to ensure ongoing competence.
Secure your future with simplicity by obtaining an online forklift certificate with our certified training program. Get the ease of remote learning while gaining the necessary skills and recognition to flourish as a qualified forklift operator.
Why is owning a valid forklift license crucial?
Obtaining the necessary documentation is of utmost importance when operating heavy equipment, such as forklifts. These vehicles can be utilized in public areas, including industrial districts, residential neighborhoods, and even on roads. Just like any other vehicle, they must be properly registered as public vehicles. In the event of an accident involving a forklift, it is crucial for the driver to be legitimately certified. If the driver lacks a lawful license and an insurance claim needs to be filed, there is a high probability that the insurer may deny the claim.
Safety is a top priority for most mill and warehouse owners, which is why they require their employees to undergo mandatory training and acquire the necessary certifications. Employees are encouraged to receive training in essential safety procedures, equipment management, and operation.
Driver training is an integral part of the comprehensive training program. Acquiring a license entails completing mandatory paperwork and successfully passing a hands-on road test. Licenses are typically issued to employees who are 18 years or older. Employers often assist their workers in obtaining any relevant licenses required for their work.
Make your dreams a reality by becoming a certified forklift operator with our thorough training program. Learn how to negotiate equipment, safety measures, and industry standards, laying the groundwork for a successful and secure career.