Hablamos Espanol
On-site Training
CALL NOW FOR PRICING
(888) 978-2516
Industrial Forklift Truck Training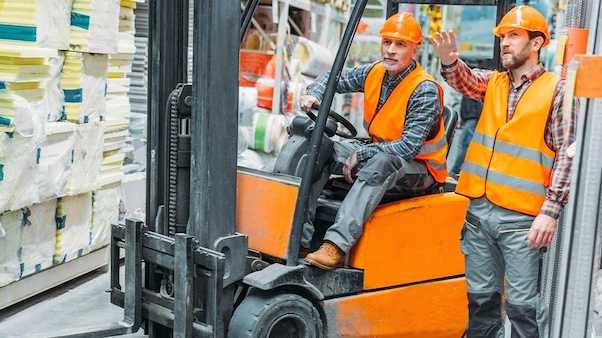 Powered Industrial Truck Training is a Requirement
To operate a forklift both safely and legally, All operators must complete a training program that includes the following topics (29 CFR 1910.178(l)(3)):
Forklift Truck Related Topics
Operating instructions, warnings, and precautions for the types of truck the operator will be authorized to work
contrasts between the truck and the automobile;
Truck controls and instrumentation: where they are located, what they do, and how they work;
Engine or motor operation;
Steering and maneuvering;
Visibility (including restrictions due to loading);
Fork and attachment adaptation, operation, and usage limits;
Vehicle capacity;
Vehicle equilibrium;
Any vehicle inspection and maintenance that the operator will likely be required to execute;
re-fueling and/or charging and recharging of batteries;
Operating limits;
Any other operating instructions, warnings, or precautions listed in the operator's manual for the kinds of the vehicle which the employee has been trained to operate.
Looking to advance your career? Enroll in our forklift certification class to get the training and credentials you need. With our comprehensive curriculum, you'll gain the skills and knowledge required to excel as a certified forklift operator.
Workplace Related Topics
climatic conditions in which the vehicle will be operated;
The combination of loads to be carried and load stability;
Load manipulation, stacking, and unstacking;
Pedestrian traffic in areas where the vehicle will be worked;
Narrow aisles and other restricted places at which the vehicle will be operated;
Hazardous (classified) locations where the vehicle will be operated;
Ramps and other sloped surfaces that could affect the vehicle's stability;
Closed environments and other areas where insufficient ventilation or poor vehicle maintenance could result in a buildup of carbon monoxide or diesel exhaust;
Further, any operator that has been engaged in a crash, near miss, or test stemming from the unsafe performance has to be retrained; and sometimes the operator is delegated to another kind of truck or alternative work state must be trained. (29 CFR 1910.178(l)(4)).
Enroll in our specialist Forklift Train the Trainer classes to gain the knowledge required to train future forklift operators. Learn the skills and certification required to give effective training sessions and guarantee workplace safety.
---




---
Payments Accepted


Our History
All Purpose Forklift Training instructors combined brings over 100 years of training and field experience. We strive to deliver the highest standard of quality forklift certification training.
allpurposeforklifttraining.com All rights reserved. Web Development by All Purpose Safety Training Solutions