Hablamos Espanol
On-site Training
CALL NOW FOR PRICING
(888) 978-2516
In House Forklift Instructor Training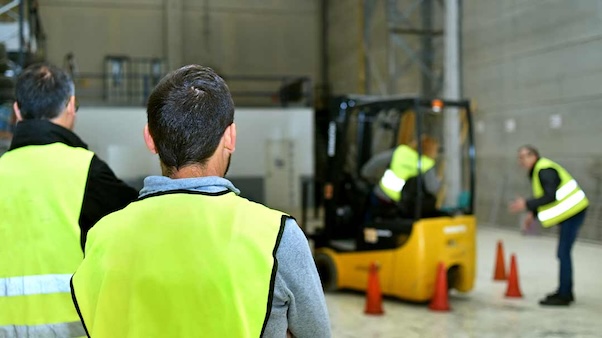 If you are looking to enhance safety and efficiency in your warehouse or industrial setting, then look no further than our comprehensive In-House Forklift Instructor Training program. Safety should always be a top priority in any workplace that involves heavy machinery, and having skilled and certified forklift instructors can make a significant difference. In this article, we will delve into the importance of in-house forklift instructor training and how it can create a safer working environment.
The Need for In-House Forklift Instructor Training
In today's fast-paced industrial landscape, having well-trained forklift operators and instructors is crucial. Forklifts are powerful machines that require proper handling and expertise to avoid accidents and mishaps. Our In-House Forklift Instructor Training program aims to equip your team with the knowledge and skills needed to operate forklifts safely and effectively.
Empower your team with the skills to train others effectively through our forklift train the trainer classes. Get equipped with the knowledge and certification necessary to lead successful training sessions and promote a culture of safety in your organization.
Advantages of Our Training Program
Enhancing Workplace Safety
When it comes to operating heavy machinery like forklifts, safety is non-negotiable. Our training program emphasizes safety protocols, risk assessment, and best practices. By having in-house forklift instructors who are trained to the highest standards, you can reduce the likelihood of accidents, injuries, and damage to property.
Tailored to Your Workplace
One of the standout features of our training program is its customization. We understand that each workplace is unique, with its own layout, equipment, and challenges. Our instructors will tailor the training to address the specific needs and requirements of your facility, ensuring that your team is prepared for real-world scenarios.
Compliance and Certification
Regulations and compliance standards vary from industry to industry. Our training program not only covers essential skills but also ensures that your instructors are well-versed in the latest industry regulations. Upon successful completion of the program, your team will receive certifications that demonstrate their competence and adherence to safety guidelines.
How Our Program Works
Onsite Forklift Instructor Training
We provide in-house instructor training for forklifts, tele-handlers, boom lifts, scissor lifts, narrow aisle forklifts, skid steers, crane operators, wheel loaders, and more.
Forklift Training and Certification
This in-house forklift instructor training course is one of many in-house instructor programs we provide to our customers. Designed to provide aspiring operators/trainers with the fundamentals to deliver an effective training program and ensure course curriculum standards are adhered to.
Our in-house training certificate courses are delivered through multimedia presentations, interactive discussions, and practice. In-house instructor participants are provided with a safe learning environment to practice content delivery and class management techniques to engage end-users and ensure learning objectives are being achieved.
These in-house instructor training courses are reinforced through the use of instructor guides and supplementary handouts. Participants are encouraged to purchase recommended multimedia and training supplies to guide internal training.
IN-HOUSE INSTRUCTOR TOPICS:
Training Methodology & Approach
Training Requirements & Due Diligence
OSHA Guidelines & Regulations
Theory of Learning & Styles
Training Environment Aids & Set Up
Presentation Tips for Success
Leveraging Multimedia & Training Materials
Class Presentation & Practice
Evaluation Techniques & Record Management
Requirements:
In-house instructors are required to successfully complete a one day operator training and comply with program audit requirements, in which instructors will need to submit one completed class file form in order to receive certification.
Investing in In-House Forklift Instructor Training is a strategic move that pays dividends in workplace safety, compliance, and operational efficiency. Equip your team with the skills they need to operate forklifts confidently and responsibly. Contact us today to embark on a journey toward a safer and more productive workplace.
Please contact our operator training department to find out more regarding audit requirements and re-qualification process if applicable. Contact us today at (888) 501-1355 for the best deals on training and certification.
Read Article: What is a Forklift Inching Pedal?