Hiring Forklift Instructors Nationwide
On-site Training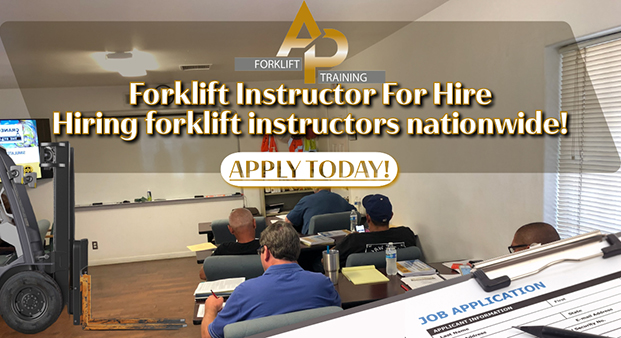 Would you like to work across the country as a forklift instructor? You've come to the right place! All Purpose Forklift Training is hiring forklift instructors nationwide. Join our team today and become a part of our nationwide network of skilled forklift instructors.
We are seeking passionate individuals with expertise in forklift operation and safety to train and guide aspiring forklift operators. If you are dedicated, knowledgeable, and enjoy sharing your expertise, apply now to make a significant impact in the industry and help promote safe forklift practices. Together, let's build a safer and more proficient workforce!
Forklift Instructor For hire
Location: United States (Travel Required)
Company: All Purpose Forklift Training
Phone: (888) 501-1355
Job Type: Full-Time
Job Description:
Join our team of forklift instructors and leave a lasting impression on forklift operators around the United States. This exciting role requires extensive travel around the country to provide effective forklift training courses. As an instructor, you will be in charge of promoting safety and maintaining compliance with forklift industry standards.
Responsibilities:
Provide high-quality forklift training programs to individuals and groups across the United States.
Conduct on-site evaluations to determine training needs and solve skill shortages.
Create training materials and resources to enable effective learning experiences.
Travel extensively throughout the United States to conduct training sessions and certification exams.
Collaborate with internal teams and clients to develop training programs that meet unique needs.
Provide constructive criticism and coaching to improve trainee skills and safety compliance.
Maintain accurate records of training activities and certification records.
Continuously improve training programs in response to participant feedback and the most recent forklift industry trends.
Qualifications:
Minimum experience of two years.
A high school diploma or equivalent is required; further forklift operations certification or education is preferred.
Proven experience as a forklift operator, trainer, or other equivalent function.
Solid understanding of forklift operations, safety protocols, and industry laws.
Outstanding communication and interpersonal abilities.
Willingness to travel extensively throughout the United States.
A valid driver's license and a spotless driving record are required.
Flexibility to work weekends or outside of regular office hours as needed.
Capability to adapt to new training methodologies and technologies.
How to Apply:
To apply for the forklift instructor position, please send your resume to info@allpurposeforklifttraining.com. Please mention "Applying for Forklift Instructor Position" in the subject line. We will consider applications on a rolling basis until the position is filled.
---




---
Payments Accepted


Our History
All Purpose Forklift Training instructors combined brings over 100 years of training and field experience. We strive to deliver the highest standard of quality forklift certification training.
An All Purpose Safety Training Solutions Company