Hablamos Espanol
On-site Training
CALL NOW FOR PRICING
(888) 978-2516
Forklift Operator Job Certification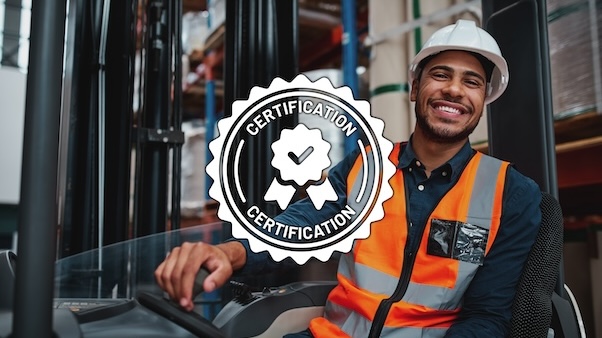 Obtaining a forklift operator certification grants you the authority to skillfully maneuver a forklift within a designated work site. This entails efficiently handling the loading and unloading of materials and deliveries, seamlessly transporting them between storage areas, machinery, loading docks, and even railway cars or trucks. Furthermore, such certification equips you with the competence to operate within storage centers with utmost proficiency.
Forklift Operator Job Responsibilities:
Acquiring and reviewing production schedules or transportation orders to facilitate the efficient transfer of materials or equipment to and from designated areas within the facility.


Safely loading and unloading products from various vehicles, such as trucks or aircraft.


Skillfully moving palletized or crated goods throughout the storage center, ensuring proper placement in designated storage bays according to inventory management guidelines.


Verifying the security of loads to prevent any potential hazards.


Organizing empty pallets in neat stacks.


Conducting daily equipment checks, including tasks such as recharging the truck's battery and maintaining equipment functionality.


Disassembling machine attachments and disposing of waste materials from machines.


Conducting inspections of products to ensure adherence to quality standards.


Transferring materials into machine hoppers as required.
Qualification Requirements:
Possession of a high school diploma or equivalent.


Proficient mathematical, language, and reading skills; basic computer literacy may be necessary.


High level of attentiveness to prevent harm to oneself and others, fostering a safe work environment.


Execution of assigned tasks with precision, timeliness, and safety.


Maintenance of a clean and safe working environment.


Familiarity with RF scanner gun usage may be required.


Clean driving record and possession of a valid state motor vehicle operator's license may be necessary.


Forklift certification compliant with OSHA standards.
Physical Requirements and Skills:
Regular operation of a powered industrial truck, involving extended periods of sitting.


Frequent lifting of up to 50 pounds and ability to adjust body positions for bending, stooping, standing, walking, turning, pivoting, and standing for prolonged periods.


Excellent sense of balance.


Superior eye-hand-foot coordination.


Proficiency in assessing weights and estimating distances and heights.


Capability to work in various temperature conditions, depending on the season.
Forklift Operator Certification School
Experience comprehensive forklift training by reaching out to All Purpose Forklift Training today. Gain certification for various types of forklifts and aerial lifts, tailored to meet the specific needs of your business or company.
Contact All Purpose Forklift Training today and get certified in near your area for all types of forklifts and aerial lift in your business or company. Give us a call for prices and dates at (888) 978-2516. Forklift classes are available schedule now to embark on this valuable training opportunity.
Offering Crane Training
With our thorough crane training and certification program, you can advance your job chances. Get the knowledge you need to operate cranes safely and receive your certification, showcasing your proficiency to potential employers.

w
---




---
Payments Accepted


Our History
All Purpose Forklift Training instructors combined brings over 100 years of training and field experience. We strive to deliver the highest standard of quality forklift certification training.
allpurposeforklifttraining.com All rights reserved. Web Development by All Purpose Safety Training Solutions