Hablamos Espanol
On-site Training
CALL NOW FOR PRICING
(888) 978-2516
Forklift Controls And Capabilities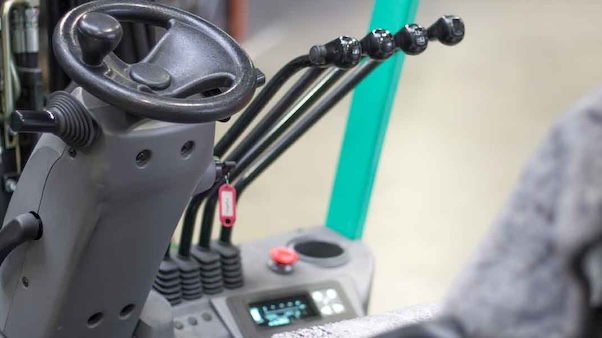 When it comes to the seamless operation of industrial environments, forklifts stand as essential workhorses. Their ability to move heavy loads with their controls and capabilities, the technology and skills that drive these powerful machines is a hallmark of efficiency in warehouses, factories, and construction sites.
Forklift Controls
At the heart of every forklift's operation lies a sophisticated control system that empowers operators to navigate with precision. These controls, designed to be intuitive and ergonomic, grant operators the finesse needed to manipulate heavy loads safely. The essential components of forklift controls include:
Steering Mechanism - The steering mechanism dictates the forklift's direction, much like a rudder guides a ship. Advanced forklifts employ hydraulic power steering, enhancing maneuverability even in confined spaces. Operators can swiftly change directions and make tight turns, optimizing their movement efficiency.
Mast and Fork Controls - The mast, equipped with hydraulic cylinders, governs the vertical movement of the forks. This mechanism allows for lifting, lowering, and tilting of the load. Operators can precisely position the forks for seamless loading and unloading, ensuring optimal safety and load stability.
Transmission and Acceleration - Modern forklifts often feature automatic transmissions, simplifying the operator's workload. Acceleration pedals regulate the forklift's speed, enabling operators to smoothly navigate varying terrains. Efficient acceleration control minimizes the risk of accidents and improves overall productivity.
Hydraulic Levers - Hydraulic levers control various functions, such as mast height and tilt. These levers are designed for ergonomic use, enabling operators to manipulate heavy loads without excessive effort. The intuitive design of hydraulic levers reduces operator fatigue and increases efficiency.
Mastering the Skill: Forklift Capabilities
Beyond their controls, forklifts possess a range of capabilities that make them indispensable in industrial settings. These capabilities highlight their adaptability and contribution to operational efficiency:
Weight Lifting - Forklifts exhibit impressive strength, lifting weights that would be impossible for human operators. This capability streamlines material handling processes, accelerating loading and unloading times. The ability to effortlessly lift heavy loads enhances productivity and reduces strain on human resources.
Maneuverability in Confined Spaces - The compact design of forklifts allows them to navigate through narrow aisles and tight spaces. This maneuverability maximizes storage space within warehouses and optimizes the layout of industrial facilities. Operators can efficiently transport goods without compromising on available space.
Versatility in Load Handling - Forklifts come equipped with a variety of attachments, enabling them to handle diverse loads. From pallets to barrels and even specialized equipment, forklifts offer a versatile solution for material handling. This adaptability minimizes the need for multiple specialized machines, streamlining operations.
Enroll your staff in our top-tier forklift recertification training, intended to meet industry requirements and promote a culture of safety and competency.
Forklifts in Specialized Operations
Cold Storage Environments - In cold storage facilities, forklifts play a crucial role in maintaining temperature-sensitive goods. Specially designed forklifts operate seamlessly in sub-zero conditions, ensuring the integrity of perishable items. These forklifts uphold operational efficiency while preserving the quality of stored products.
Hazardous Material Handling - Industries dealing with hazardous materials rely on specialized forklifts equipped with safety features. These forklifts prevent the risk of leaks, contamination, and accidents during material transport. Operators can handle dangerous substances with confidence, safeguarding both personnel and the environment.
Forklifts are remarkable machines that combine advanced controls with versatile capabilities, revolutionizing material handling across industries. Their precision, strength, and adaptability make them invaluable assets in optimizing operational efficiency and safety. By understanding the intricacies of forklift controls and harnessing their capabilities, industries can propel themselves toward enhanced productivity and success.
Our rigorously designed forklift training curriculum specifications ensure a comprehensive learning experience, providing your operators with the precise skills and expertise required to operate safely and successfully in a variety of industrial settings.