Hablamos Espanol
On-site Training
CALL NOW FOR PRICING
(888) 978-2516
Can You Drive A Forklift Truck On The Road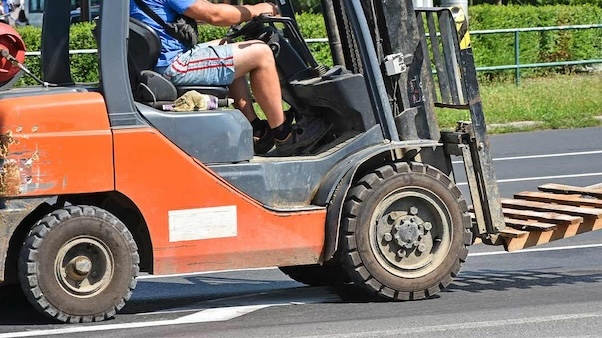 In order to operate on public roads, drivers are required to possess a valid license permitting them to drive motor vehicles. An automotive license is deemed sufficient. Additionally, drivers should have successfully completed a forklift operation course and must meet the following age requirements:
At least 18 years old for trucks weighing up to 7.5 tonnes when fully loaded.
Minimum age of 21 for trucks exceeding 7.5 tonnes when fully loaded.
Driving a Forklift Truck On The Road?
In order for an automobile to be legally operated on a public highway, there are certain requirements that must be met, with the exception being if the vehicle is driven within a distance of one mile per week and is solely used for forestry, horticulture, or agriculture purposes.
Enroll in our forklift train the trainer program to get the skills and certification needed to give effective training sessions. Prepare to develop a culture of safety and competence among your fellow forklift operators.
The car must display a number plate and should be equipped with lighting that is appropriate. And if there's a probability of rollover, the vehicle should be fitted using an operator controlling system (seatbelt). When traveling under 25mph on all roads, a flashing amber beacon is expected on a truck using four or more wheels. If traveling on public roads, lights have to be observable from the rear of the vehicle. Regular maintenance and servicing should make sure that the truck is roadworthy, and also you want to keep records of this.
Firstly, the car must have a visible number plate and be equipped with appropriate lighting. Additionally, if there is a risk of rollover, the vehicle must be fitted with an operator controlling system, such as a seatbelt. For trucks with four or more wheels traveling at speeds below 25 mph on any road, a flashing amber beacon is mandatory. Furthermore, if the vehicle is driven on public roads, its lights must be clearly visible from the rear. It is essential to ensure regular maintenance and servicing to ensure the truck's roadworthiness, and proper records of these activities should be maintained.
In many cases, the vehicle can be driven with minimal alterations, as long as it is duly registered and insured.
The term "immediate vicinity" is not explicitly defined by the law. Nevertheless, it has been established that a distance greater than 1,000 yards would not be considered within the immediate vicinity.
Enroll in our recognized forklift operator training school to advance your career. Get hands-on experience, experienced supervision, and the confidence you need to become a skilled and qualified forklift operator.